3 Ways to Make Shareable Small Plates from Side Dishes
Feb 22, 2022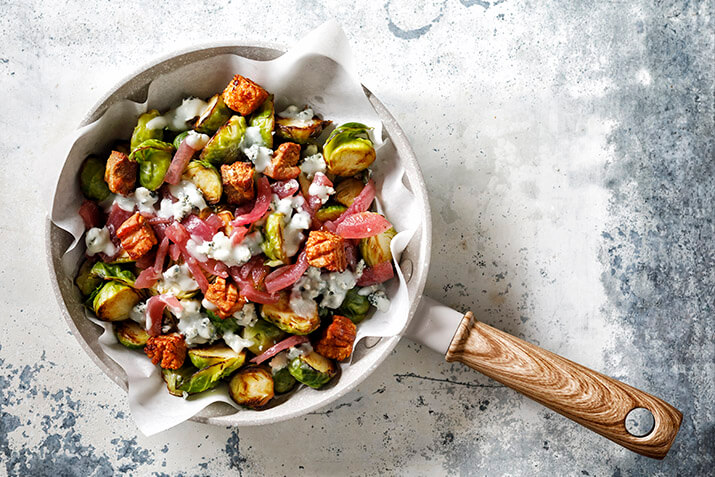 Despite the effect of the pandemic on dining habits, restaurant guests still love the social experience of sharing a meal. This often involves sharing the actual plates, enabling guests to create a "choose your own adventure" experience from a variety of dishes.
"As diners look for more small plates to share, dishes that were typically seen in 'sides' sections of the menu– like Brussels sprouts and fries– are becoming popular appetizers," says Simplot Corporate Executive Chef Michael Zeller. "With a few well-chosen ingredients and unique preparations, you can reimagine your side dishes as popular appetizers."
If you're looking to revamp your appetizer menu, here are three strategies to convert side dishes to craveable appetizers.
Make it shareable

As Chef Josh Archibal of Tillamook Creamery observed in Forbes' 2022 food predictions, "Boards, charcuteries and platters are gaining traction again and I see this as part of a larger trend of people getting further away from standard meals."1

Using platters and boards to showcase different sides can satisfy diners looking for variety and adventure in their snacks and shareable plates.

Flower Child in Dallas, TX, uses eggplant, Brussels sprouts, portobello mushroom "lardons" and sweet potato chicharrones to create a vegan chef board, embellishing with accoutrement like fig and quince marmalade, apples, and toasted baguette.

Lazy Susan in Portland, OR, displays a wide variety of seasonal veggie crudités with their housemade green goddess dressing in a stunning bowl of ice display, easy for guests to pluck and dip.

Zahav in Philadelphia, PA, serves their smoked and fried sweet potatoes as a mezze with caramelized onion labneh in bite-sized chunks for easy sharing.

Recommended recipe: Harissa Baby Bakers™ Skewers »


Dress it up

According to research from Datassential, "Broccolini is one of the fastest-growing apps on menus today. It's currently on 1% of appetizer menus but has grown by +104% since 2017. It is most commonly served grilled or pan-fried with garlic and a sprinkling of cheese and a chili pepper of some kind."2

Diablo & Sons in Boise, ID, fries their Brussels sprouts and serves them with a black salsa glaze and a crunchy pistachio dukkah.

At Alderwood Restaurant in Santa Cruz, CA, one of their signature dishes is a crispy Hen of the Woods mushroom with a seasonal glaze and sauce.

Recommended recipes:
Pork Belly, Stilton Blue and Red Onion Jam Roasted Brussels Sprouts »
Charred Broccoli with Sriracha-Cheese Sauce »


Streamline your menu

Streamlining your menu is a smart way to mitigate the supply chain and labor issues bedeviling your staff. For example, many restaurants have eliminated the distinction between "appetizers" and "sides" on their menus altogether, opting for a more straightforward "small plates" section. If that's not right for you and your clientele, find ways to use seasonings, sauces, and ingredients that are used elsewhere on your menu to reduce waste and make things easier on your prep and line staff.

Square Pie Guys in the San Francisco Bay Area, serves their crispy Brussels sprouts with Szechuan dry rub and cilantro lime crema, both of which are featured on other dishes on the menu.

Majordomo in Los Angeles, CA, has an entirely shareable menu, with sections labeled by how the food is presented. Their "Market & Snacks" sections feature veggie-forward options like grilled cabbage with xo sauce, mint, and lemon, as well as grilled broccoli with ginger vinaigrette and crispy shallots.

Recommended recipe: Zesty Roasted Cauliflower Bites »
The trend towards more shareable side dishes provides a lot of opportunity for restaurants, both financially and creatively. Transitioning your sides to enticing appetizers can be a lot of fun, providing customers with unique and unexpected twists on old standbys. It also provides you with a great tool to balance out your menu with an eye towards optimizing for ingredient utilization. With such clear upsides, this trend is one to make sure you don't miss.
1 Forbes
2 Datassential, 2022
3 National Restaurant Association