4 Things You Have to Remember About Gen Z Diners
Jul 27, 2021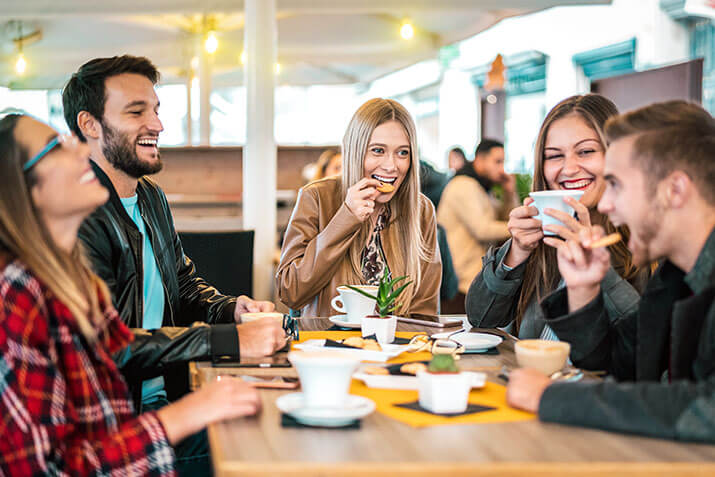 Just when you got comfortable with Millennials' dining preferences, here comes Gen Z. Born between 1993 and 2002, they'll soon be the most influential customer cohort for restaurants, so now is the time to start to understand their unique approach to eating out.
Here are a few highlights from a recent report by Technomic:
Gen Z loves their snacks. While they still eat three meals a day, they tend to eat snacks, too. In fact, 52% of Gen Z in the U.S. snacks more than once a day, with 37% of these occasions away from home.1 Consider making your snacks more filling and your meals lighter to accommodate them. And don't forget to offer snack options that work off-premise.
Here are some great snack recipes to consider:
Seasoned Tater Sticks
Avocado Coconut Smoothie
Elote Flatbread
Gen Z sees value in terms of price and food quality. They're the most price-sensitive generation and the most likely to justify eating out if they see it as a good value. "Value" in their minds is a combination of price and food quality. Considerations like the dining experience, portion size and service rank lower. Focus on quality ingredients served in healthy portions at a reasonable price.
These Simplot products are a great fit:
Simplot RoastWorks® Roasted Vegetables and Fruit: Their roasted color and flavor add an upscale appeal to any plate. Check out our new Ready-to-Eat (RTE) options that can be thawed and served straight from the bag, perfect for salads and other cold applications.

Simplot Harvest Fresh™ Avocados Hand-Scooped Chunks: Generous chunks of fresh, hand-scooped Hass avocado, always ripe, always ready.

Simplot Good Grains™ Cilantro Lime Rice & Fire-Roasted Corn Fiesta: Brown rice, black beans, fire-roasted corn, poblanos, tomatoes and onions in a savory cilantro lime seasoning.
Gen Z uses delivery more than anyone else. Delivery accounts for 26% of all Gen Z's food orders in America.1 No generation uses delivery more. Make sure you have items that can withstand the rigors of travel.
These Simplot products offer the extra-long hold time you need:
Simplot Delivery+® Fries: Get 40+ minutes of hold time plus the ability for customers to reheat these fries in the microwave.

Simplot RoastWorks® Baby Bakers™ Roasted Potatoes: Irresistible baby potato appeal that travels well and tastes great.
Gen Z wants it contactless. They're the #1 generation in terms of using contactless ordering, payment and delivery technology.1 According to surveys, this trend won't end with the pandemic, so if you want to attract and retain these tech-savvy customers, make sure you offer mobile and online options to order and pay for meals.
For more information, check out our e-book, "The Ultimate Guide to Delivery & Takeout."
While this article is focused on Gen Z, many of these trends—like the rising use of technology and increased use of delivery and takeout—apply to Boomers, Gen X and Millennials to some degree, so improving your game in any of these aspects is a smart investment. And what's the point of waiting? For restaurants, Gen Z is growing in importance with every passing day.
1 Technomic, Inc., The Gen Z World, 2021