On-Trend: 21 Recipe Ideas for Good Grains™ Cilantro Lime Rice
Dec 18, 2020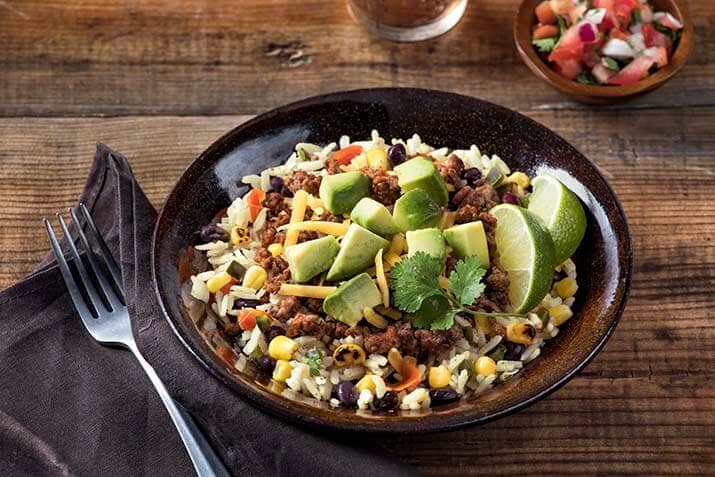 Cilantro lime rice is a hugely popular and versatile dish, having become a favorite at successful chains like Chipotle and Boston Market. Great on the side, as a base for on-trend bowls, or as filling inside wraps and burritos, cilantro lime rice has a home in every daypart and industry segment.

Simplot Foods has just released its own take on this classic recipe with new Good Grains™ Cilantro Lime Rice & Flame-Roasted Corn Fiesta. It's a vegan blend of brown rice, fire-roasted veggies, salt, cilantro, onion, tomato, and lime juice that helps operators stay on-trend with the growing interest in international flavors, plant-based diets, and bowls.

Here are 21 great ways to use Good Grains™ Cilantro Lime Rice & Flame-Roasted Corn Fiesta for breakfast, lunch, dinner, and happy hour developed by the Simplot Culinary Team:
SIDES
Cilantro Lime Fried Rice—Add diced carrots, diced onions, peas, garlic, sauté. Add eggs and Cilantro Lime Rice. Heat and serve.
Caribbean Rice Pilaf—Heat Cilantro Lime Rice, cool. Add pomegranate seeds, orange and lime zest, coconut cream, agave and toasted, large flake coconut.
Spicy Rice and Shrimp Croquette—Cream cheese, ground Flaming Cheetos®, Cilantro Lime Rice, and cooked, chopped shrimp. Roll into balls, chill, then roll into a seasoned panko breading. Deep fry and serve with a dipping sauce.
SALADS
Loaded Cold Chicken Lime Rice Salad—Cilantro Lime Rice loaded with pulled chicken, tri-color cherry tomatoes, split green onions, diced cucumbers. Top with a cilantro lime cream sauce or cilantro honey lime dressing. Optional chopped Romaine lettuce.
APPETIZERS
Shrimp and Cilantro Lime Rice Cakes—Diced shrimp, egg, celery, Old Bay seasoning, chopped cilantro, lime juice and Cilantro Lime Rice. Blend together. Portion out into small cakes and fry in a pan until golden.
Sweet Chili Shrimp and Rice—Sauté shrimp with olive oil, garlic, black pepper and red pepper flakes. Sauté until shrimp are cooked. Add Cilantro Lime Rice, heat and blend in sweet chili sauce until desired.
Fresh Spring Roll with Shrimp and Cilantro Lime Rice—Take rice wrapper and fill with Cilantro lime Rice, shrimp, cilantro, lettuce and shredded carrot. Roll and serve with sauce of choice.
Loaded Avocado—Fill half of an avocado with Cilantro Lime Rice. Top with cooked taco meat, shredded cheese and finish with pico de gallo and fresh, chopped cilantro.
Chicken Puffs—Cream cheese, shredded Fontina cheese, shredded chicken and Cilantro Lime Rice. Roll into balls and chill. Dip into egg wash then seasoned panko breading. Deep fry and serve with a Gochujang dipping sauce.
Cheesy Crab and Rice Rangoon Dip—Cream cheese, heavy cream, Cilantro Lime Rice and diced crab meat blended and warmed. Serve in a bowl with wonton chips on the side.
SOUPS
Cilantro Lime Rice and Chicken Soup—Cream-based soup, loaded with diced chicken and cilantro lime rice. Garnish with cilantro, crema, pico de gallo and diced avocado.
Coconut Lime Rice Soup and Sweet Potatoes—Coconut cream base blended with Cilantro Lime Rice and RoastWorks® Sweet Potatoes dices.
Fire Lime Soup—A spicy cream soup loaded with cream, diced onions, pulled chicken meat and chicken stock, Cilantro Lime Rice and ground Flaming Cheetos® to add that fierce kick of spice.
ENTRÉES
Cilantro Lime Rice Baked Chicken Thighs—Place Cilantro Lime Rice mixture into a baking pan topped with chicken thighs, salsa, Cotija Cheese. Bake and garnish with chopped cilantro and lime zest.
Cilantro Lime Fajitas—Beef, chicken, pork or shrimp fajitas, flour tortilla loaded with protein, sautéed peppers, onions and Cilantro Lime Rice.
Taco Bowl—Cilantro Lime Rice placed into a bowl topped with cooked taco meat, shredded cheese, diced avocados and finished off with pico de gallo.
Grilled Shrimp and Cilantro Lime Rice—Heavily seasoned shrimp grilled and placed onto a bed of Cilantro Lime Rice. Garnish with sliced avocado, sliced lime, and cilantro.
Cilantro Lime Breakfast Burrito—Soft flour tortilla filled with chorizo, eggs, Cilantro Lime Rice, shredded pepper jack cheese, and a side of pico de gallo.
Fiery Cilantro Lime Chicken and Shrimp—Sautéed chicken and shrimp with garlic, red pepper flakes, diced green onion and a touch of Sriracha. Fold together with Cilantro Lime Rice and finish off with ribbons of Sriracha and crema.
Cilantro Lime Vegan Burrito—Flour tortilla filled with a blend of Cilantro Lime Rice, avocado and Cholula.
Chicken and Cilantro Lime Rice Patties—Ground chicken blended together with egg, Cilantro Lime Rice and seasonings made into a patty, grilled, and topped with Pepper Jack cheese. Placed onto a hamburger roll with lettuce, sliced avocado and pico de gallo.
International flavors most likely to succeed during the pandemic
In Technomic's Take's: What's to Come in 2021 the prediction is a renewed interest in the top three global favorites—Italian, Mexican and Chinese due to pandemic travel restrictions. These cuisines are predicted to be more popular than other international fare among families ordering food and drink for home consumption.1 The Good Grains™ Cilantro Lime Rice & Flame-Roasted Corn Fiesta is a solid choice to match this trend.
The rise of the plant-based diet
As you add new items to your menu, consider plant-based dishes. Veganism in the U.S. has grown from obscurity to become a mainstream part of the American diet. Since 2004, the number of Americans turning plant-based has reached 9.7 million people, growing from around 290,000 over a period of 15 years.2 The Good Grains™ Cilantro Lime Rice & Flame-Roasted Corn Fiesta is an easy way to incorporate more plant-based offerings on your menu, with 5 grams of healthy whole grains per serving.
The versatile, popular, money-making bowl
Bowls came in fifth out of 133 menu trends ranked in the National Restaurant Association's What's Hot 2020 culinary forecast. They're an especially attractive menu option because bowls feature lower-cost ingredients, like grains, with higher priced proteins in smaller quantities, or eliminated entirely. They also travel well, making them a great menu item for takeout and delivery.3
Save on time and labor
Good Grains™ Cilantro Lime Rice & Flame-Roasted Corn Fiesta goes from freezer to plate in less than 10 minutes, just heat and serve, with no soaking or chopping required. You never have to worry about the texture or mix of ingredients—it's consistent bag after bag. And with an IQF process for easy portioning, you only prep what you need, cutting back on food waste.
Cilantro rice has long been popular with fast casual chains like Cafe Rio—but it's not limited to Mexican food. Think about the versatility of the flavors featured in this blend and explore the possibilities.
Technomic, Inc., "What's to Come in 2021", 2020
Ipsos Retail Performance: https://www.ipsos-retailperformance.com/en/vegan-trends/
National Restaurant Association's What's Hot 2020