Ranch Dressing is a Blessing
Mar 08, 2021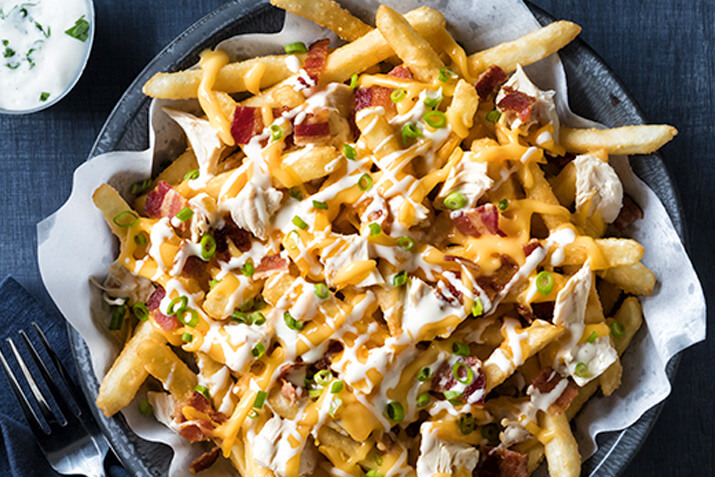 March 10th is National Ranch Day, and here at Simplot, we think it's also a day to celebrate America and its collective obsession with this creamy dressing with an herbal kick that's affectionately known as a "hug in a bottle." According to Hidden Valley Ranch's studies, at least a third of American households have some ranch product in their house at any given time. Also, a mainstay in restaurants, Ranch dressing was on over half of all US menus in 2020, according to Datassential MenuTrends™. We think it's safe to say ranch is king and America's favorite dip and topping.

So who consumes the most ranch in the US? Data shows that hands down, it's the Midwest – and although it was technically invented in California, I can personally confirm that ranch dressing has a spiritual home in the Midwest as we blanketed all foods with this all-purpose utility sauce. So in the spirit of this delicious day, I'd like to share the top 5 best dishes to drown in ranch:
Fries!
Would you expect anything less from us? And if you take your ranch recipe up a notch by incorporating premium ingredients like avocado or roasted red peppers, you now have an easy fry appetizer with a ton of upcharge potential that you know everyone will love.
All "bar" foods:
We honestly can't think of an appetizer that doesn't taste amazing dunked in ranch – pizza, nachos, chicken tenders, onion rings, poppers, wings, quesadillas…and these salty pairings are sure to increase your profitable alcoholic beverage sales.
Veggies:
Fresh, fried, roasted, or baked…veggies are great to dip or toss with ranch seasoning for a simple classic with a twist that even kids will love.
Chicken:
The chicken menu type continues to grow in foodservice, and it seems America agrees with our love for dipping chicken because, among menu items paired with ranch, 63.5% of them include chicken (Datassential MenuTrends™ 2020).
Salads:
When it comes to menu applications, salad entrees have the highest menu incidence with ranch…this means ranch works well with salads of all kinds, and we agree! (Datassential MenuTrends™ 2020)
Ranch dressing growth is predicted to outperform 93% of all other foods and ingredients over the next four years (Datassential MenuTrends™ 2020), and 70% of consumers say they either love or like ranch (Association for Dressings and Sauces). I want to think this confirms trends can start in the Midwest, and everyone is catching up with us on this magical, life-changing ingredient – so please get out (or order in) and support your favorite restaurant on March 10th and dip something new!
Check out these ranch recipes:

Happy National Ranch Day,
Mandy Harrison
Former Midwestern Ranch Connoisseur and Sr. Manager of Customer Marketing, J.R. Simplot Company