Curried Roast Chicken and Chips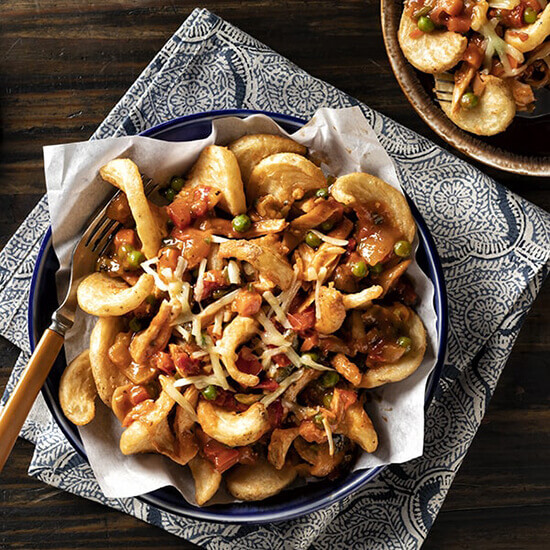 Yield:
16 Servings (11 oz.)
Yield: 16 Servings (11 oz.)
Our version of an English take-away, but with a tasty twist—Simplot SIDEWINDERS™ Fries.
Preparation Instructions:
Step 1

Add olive oil to a 12 qt. stockpot over medium heat. Add peppers and onions, jalapeños, garlic and ginger to the pan; sweat until the onions are translucent. Add curry, cook for 2 minutes or until fragrant. Slowly add flour to make a roux. Slowly whisk in chicken stock to prevent lumps from forming. Add chicken, simmer for 3 minutes. Add marinara sauce, tomatoes, cilantro, green onions, sugar, and peas and carrots. Continue cooking until sauce thickens, about ten minutes. Season with salt and pepper.

Step 2

For each serving; prepare 6 oz. of the SIDEWINDERS™ Fries according to package instructions. Drain and place on a warm serving plate. Top with 6 oz. of chicken curry and 1/2 oz. of cheese.
Products used in this recipe