Japanese Ramen with Crispy Pork Belly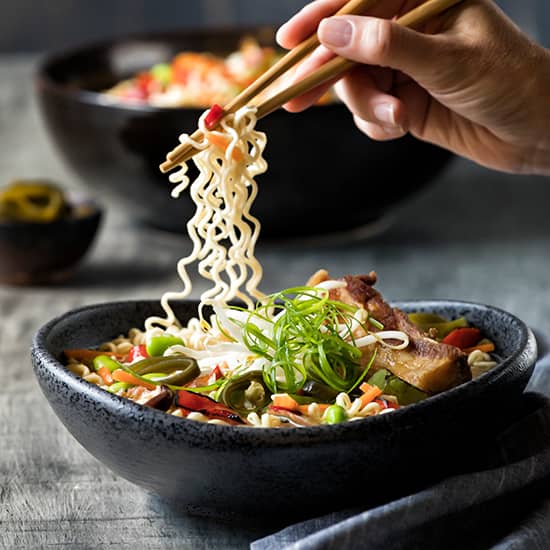 A deeply flavorful noodle dish with an impressive presentation. This satisfying bowl is sure to be a winner with your patrons.
Preparation Instructions:
Step 1

Preheat fryer to 350°F.

Step 2

Whisk white miso paste into hot dashi broth. Reserve. Soak kombu in hot water to soften. Roll and thinly slice. Reserve.

Step 3

Deep fry large chunks of pork belly in 350°F deep fryer. Cook until fully cooked and dark brown. Reserve.

Step 4

Heat a large non-stick skillet over medium-high heat. Cook Thai Style Red Quinoa Blend and Roasted Peppers & Onions until warm.

Step 5

Add in shitake mushrooms. Cook mixture until hot.

Step 6

Soak ramen noodles in a bowl of hot water until soft. Drain. Reserve.

Step 7

In large serving bowls, place ramen noodles. Spoon 4 oz. vegetable mixture on top of noodles. Pour hot broth into bowl, covering ingredients ¾ of the way. Place piece of 3 oz. crispy pork belly on top of noodles. Garnish with bean sprouts, green onions and watercress. Serve with crushed red pepper flakes, sesame oil and soy sauce at the table.
Products used in this recipe