Roasted Corn, Black Bean & Avocado Enchiladas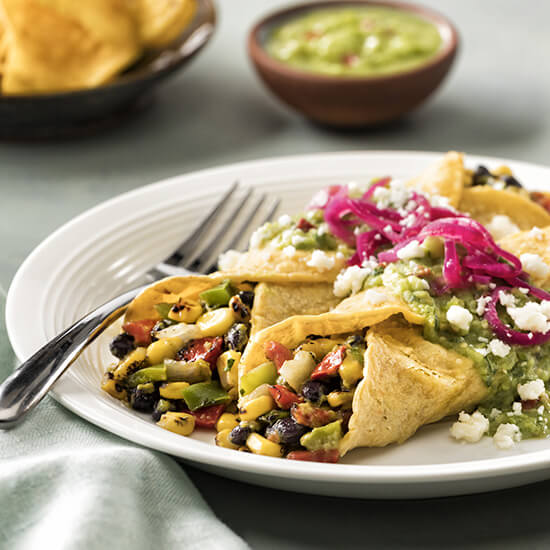 Yield:
12 Servings (10 oz.)
Yield: 12 Servings (10 oz.)
Preparation Instructions:
Step 1

Thaw guacamole according to package instructions.

Step 2

For the pickled red onions: Bring vinegar to a boil in a saucepan. Add sliced onions and stir well. Return to a boil and turn off the heat. Allow mixture to cool. Transfer to a plastic container with a lid and refrigerate for service.

Step 3

Preheat oven to 350˚F.

Step 4

For the avocado salsa verde; In the bowl of a food processor, blend together the guacamole and tomatillo salsa until smooth and creamy. Stir in cilantro. Reserve for service.

Step 5

Prepare fiesta blend according to package instructions. Add avocado pulp and stir to combine.

Step 6

Warm tortillas to soften. Place 3 oz. fiesta blend mixture in each tortilla and roll up. Place seam side down in a baking dish. Bake in oven until warmed through, about 10-12 minutes.

Step 7

For each serving; place 2 enchiladas on a plate, top with 2 oz. avocado salsa verde, 1/2 oz. Cotija cheese, and 1 oz. pickled red onion.
Products used in this recipe