Salsa Verde Enchiladas Take Home Kit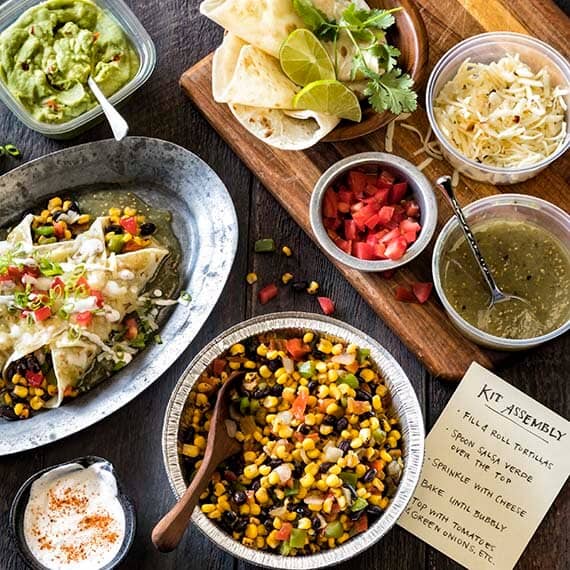 Yield:
8 Servings (12 oz. ) (2 Pans - 4 Servings Each)
Yield: 8 Servings (12 oz. ) (2 Pans - 4 Servings Each)
Help your customers create this tasty Mexican favorite in their home kitchens. This take-home meal kit features Simplot RoastWorks® Flame-Roasted Corn and Black Bean Fiesta Blend as the star in a hearty green enchilada dish that will satisfy vegetarians and omnivores alike.
Preparation Instructions:
Step 1

Preheat oven to 400°F.

Step 2

Prepare Corn and Black Bean Fiesta Blend according to package instructions.

Step 3

Whisk together the sour cream, milk and Tajin. Transfer to a squeeze bottle and set aside.

Step 4

Place 2.5 oz. Fiesta Blend on a flour tortilla. Roll up and place seam side down in a half-sized hotel pan. Repeat to fill 2 pans with 8 filled tortillas each. Spoon salsa verde over the top of both pans and sprinkle with shredded cheese. Bake until bubbly and cheese is melted, about 10-15 minutes.

Step 5

Top baked enchiladas with diced tomato and green onion. Drizzle each pan with reserved sour cream mixture. Serve with guacamole cups on the side.
Products used in this recipe